Trump IX The Hermit, The Hooded Man, Jedi, Philosopher
menu continued from page 1

Journalist Heaven - Second Course


Nutrition for Sagittarius

The Sagittarian cell salt, silica, is emphasized in the menu for the proper function of muscle tissue. Silica is in the skins of apples, pears, pear-Roquefort-walnut salad, plums and peaches; also found in figs, strawberries, stewed prunes, parsnips, brown rice, groats [buckwheat] and oats. These foods are Jupiterean and help to rejuvenate the skin and minimize wrinkles around the eyes.

Care with sugar and starch is recommended. Plenty of fresh water will help to flush toxins from the system if silica is taken as a food supplement. In addition, foods high in sulphur help with healthy blood; there are several of them listed at Jupiter related pages, like the Jupiter Table, that include sandwich and salad suggestions like apple cider, apple turnover, asparagus-green bean-hearts of palm salad, avocado paired with tuna salad and spinach for great power Bs, baked pork and beans with hot dogs, beef and fresh veggie kabobs, blue stuffed mushrooms, cheese cake New York style, cucumber, easy fry eggplant-green pepper & mozzarella sandwich, honey, kale, traditional lasagna, lemon ice cream, mashed potatoes and cauliflower, meatball sandwiches, napoleon pastry, patty of chicken-black mushrooms-grapes, peach kuchen, pineapple cream cheese in celery boats, pink lemonade, poached pears with vanilla cream sauce, potato salad, pressed ham and pear sandwiches, rum baba with crystallized pineapple, sauerkraut and spare ribs, shrmx, Sockeye Salmon, strawberry shortcake, stuffed bell peppers, venison stew, Waldorf Salad, watercress, yogurt with berries for a great waffle topping.

Herbs and Tea for the Archer's table include agrimony, dried mustard, garlic, ginseng, mallows, marjoram, and sage. Sauces with garlic, ginseng, or mushrooms make it easy to guarantee healthy meals. go to It's All In The Sauce
Lean and Green sandwiches @ The Oracle's Lab

Colour Us Cornucopia Inn basic guide to your nutritional program, based on colour of food you are drawn to and avoid

Trump IX Menu for Movie Marathon

Food for Thought

Sagittarius carries his own light and looks at the world in the lustre it spreads.

Vintage Spuds - Late Edition

A liberal variation on Russell Crowe's Mashed Potatoes in State of Play

Ingredients




4 pounds white potatoes, peeled, cut into 1-inch pieces
2-3 laurel leaves
1 cup half and half cream
4 oz.soft goat cheese
1/2 to 1/3 cup butter, room temperature
1 tablespoon white truffle oil
Sea salt and freshly-ground pepper to taste
2 scallions, thinly sliced

Directions

Bring a large pot of salted water to boil and add laurel leaves. Add potatoes and simmer about 20 to 30 minutes or until tender. Remove from heat and drain. Remove the laurel. Return potatoes to pot and stir over medium heat until excess moisture evaporates, about 1 minute. Remove from heat.

Mash and whisk potatoes to remove all the lumps. Add half and half slowly, stir in until potatoes are fluffy. Add goat cheese, stir in. Add butter and truffle oil. Season to taste with salt and pepper. Stir in scallions. Spread in a serving bowl, and garnish with parsley or cilantro.

Optional: Add truffles instead of using a garnish, if you are serving a guest.
Makes 6 to 8 servings.


The New York Times newspaper [dated May 16, 2007] article called "Hocus Pocus and a Beaker of Truffles," by Daniel Patterson went public with the information (which had been common knowledge in restaurant circles but was not well-known among consumers) that truffle oil is actually a chemical concoction made by mixing olive oil with various chemical compounds, such as 2,4-dithiapentane, that has been created in a laboratory which simulates the aroma and taste of white truffles.

Solution: When purchasing truffle oil, carefully check the label and look for the words "infused with truffles" on the label.

Good Night and Good Luck

George Clooney frequently involves himself in projects about the "Golden Age" of television. For example, he produced and starred in Fail Safe (2000) (TV), a throwback to the live television plays of the 1950s and 1960s; he directed and appeared in Confessions of a Dangerous Mind (2002), about Chuck Barris's' career in early game shows; and he directed, wrote, and appeared in Good Night, and Good Luck. (2005), about Edward R. Murrow's battle with Senator Joseph McCarthy.
PBS series: Secrets of the Dead: JFK: One PM Central
Part detective story, part true-life drama, Secrets of the Dead unearths evidence from around the world, challenging prevailing ideas and throwing fresh light on unexplained events.

In January 2008, George Clooney was appointed a U.N. "Messenger of Peace".

George Clooney Destiny Path: 1
Number 1: Beginning: first step, inception, initiative; the Primal Will; selection; unity, individuality; attention, one-pointedness, generation often associated with warmth, fire, and electrical power. The leader, adventurer, or spokesperson. Clooney films include: Fantastic Mr. Fox 2009, Michael Clayton 2007, Good Night, and Good Luck. 2005, and One Fine Day 1996.

The 1 year and all aces suggest non-conformity in the best sense of the word, usually someone who is happy being in charge, or taking a lead when it is time for action. Intelligence obvious when assessment, analysis, and modification are appropriate. Best year to begin work on a new project. Keep it simple when you lead others in what is, for them, unfamiliar territory. All new programs or changes in environment at home and work are upbeat, outcome is positive; cheerful attitude catches on.

4th of July Recipes: Americans celebrate freedom and independence with barbecues, picnics, parades, fireworks, and family gatherings. So - How about an old-fashioned picnic?

The Men Who Stare at Goats (2009)
Release Date: 6 November 2009 (USA)


Goat Cheese Toasts




Goat cheese toasts make excellent hors d'oeuvres or garnishes for a salad should you find yourself in a desert oasis.

Try a small Bucheron goat cheese, which is about 1 3/4 inches in diameter, or any other soft, creamy, and mild goat cheese of about the same size. Montrachet is also a very good imported chevre, or goat cheese. Combining the cheese with a little herbes de Provence or Italian seasoning and some slivered garlic adds complexity. The toasts can be assembled and toasted up to a moment before your troupes know about what is in their scrambled eggs and coffee.

Preheat the broiler. Cut as many 1/4-inch slices from a baguette as you need for serving. Arrange the slices side by side on a baking sheet. Cut enough 1/4-inch-thick slices from a tubelike container of goat cheese [dental floss is good for slicing the cheese] for each of the bread rounds. Press a slice of cheese on each slice of bread, taking care to cover the entire surface of the bread so it doesn't burn under the broiler. Sprinkle a bit of herbes de Provence on each toast; add freshly ground black pepper. Using a vegetable peeler, remove thin slices from a large peeled garlic clove and press 1 sliver in the center of the cheese on each toast. Sprinkle each toast with a few drops of olive oil. Slide the toasts under the broiler, so they are 4 to 5 inches from the heat source, for about 2 minutes, or until the tops are bubbly, hot, and lightly browned. Arrange the toasts on a serving platter.
Cool for about 5 minutes before serving.

When you least expect it the little man inside who says, "Keep your head down,"
gets trumped - the adventure comes to you!
We need the Jedi. 0:44
Robes of the Jedi Knight
Goes well with George Clooney and Edward R. Murrow [Murrow with Sag Midheaven] Saturday Movie brunch
and a selection of hero sandwiches & sparkling drinks
more salad @ Douglas Fairbanks, Jr.

"THE MOTHMAN PROPHECIES" director Mark Pellington has this to say about the idea of multi-dimensional events as a central topic of this film, "We... all of us involved in this film, believe in the possibility of believing, of feeling and seeing... This is not sci-fi." The book and film are based on a peculiar string of paranormal phenomena during 1966 and 1967, and the structural collapse of the Silver Bridge connecting Point Pleasant, West Virginia and Gallipolis, Ohio in December of 1967.

Linked with bizarre techno-kink special effects and multiple sightings by eye witnesses, documentations allude to sub-text rumors typical of civilian surveillance set-ups, circa 60's Summer of Love. Pellington wisely shies away from the temptation to meander to the land of 'the worse-case' scenario. Credible accounts of a seven-foot winged humanoid type with hypnotic red eyes should be sufficient to generate white knuckle syndrome for anyone in the audience. Gere is perfectly suited to his Washington journalist role. His interpretation of John Klein reveals magnified empathy mixed with a sound sense of self-preservation, as Klein superimposes a prophetic, earthy inevitability matched with Gere's Scorpio ascendant.

Scorpio is the sign of mystery, initiation, and rejuvenation. If blended with the "interactive PR skills" bestowed by Libra in the house of unknowns and the unexplained, there is a match between actor and script. Klein is a survivor of a tragic car accident and the loss of his wife (Scorpio = surrender, letting go); Klein lives up to his reputation as a first string investigative reporter when he makes connections in Point Pleasant. His natural inclination to follow the magnetic attraction to the veil surfaces in a dazzling bit of late night right brain driving. The scene taps into the power of Gere's Libra stellium in his eleventh house of boundless space, intra-dimensional intersections.

Nocturnal moths typify the secret wisdom; they are easily camouflaged by darkness (ignorance.) "The Lord of The Rings" moth-ally Gandalf needs flies to his side when the trapped wizard languishes atop Saruman's tower of power and needs air support at the Black Gate. Moth reports carry ghastly pictures to Gandalf and reveal the deadly truth about the army of Saruman and Sauron. The fact-finding backup Klein acquires in "The Mothman Prophecies" arrives like a Monday morning quarterback, so Klein feels helpless. Yet he can slowly piece together the jig-saw puzzle, bit by bit, following already unfolded events.

Naturally, preparation for initiation is a step by step process that takes time so everything is revealed according to our individual capacity to absorb. The Mothman gives clues only. Klein seems prepared for much more than he is being given by Mothman during this film so a slight departure from metaphysical standards sounds an odd tone. Gere's Scorpio ascendant and Virgo-Libra planets (photographer, PR spokesman, critic) give that realistic bite of believability to a stargate storyline in the middle of bluegrass country. This neck of the woods briefly became America's most bizarre and notorious geopathic zone, where all things turned sideways and the mystery remained.

Staff Meal at Bell Book & Candle: Chef John Mooney
Eternal City Standby: Soup of the Day

Douglas Fairbanks, Jr.

A talented writer, Fairbanks wrote humorous pieces for Vanity Fair about the Hollywood scene. Married to Joan Crawford and at the heart of tinseltown, he set up his own production company, Criterion Films, in 1935.

He released his autobiographies, SALAD DAYS, and A HELL OF A WAR, in 1988 and 1993 respectively. He left this dimension in 2000.
See It's All In The Sauce The Waldorf Statement and comment from DFJ re rash of anonymous witness assertion and smears during the witch hunt era, without the accuser names mentioned in official "classified" paperwork. This is significant because these 'witness' records don't automatically surface and come forward via the Freedom of Information Act. You must have 'connections' to discover they exist but the names of the people making charges have been omitted from these documents all together.
menu for Douglas Fairbanks Jr. here
more Douglas Fairbanks Jr. information: Fairbanks, Heartwarmer and World Server

Lowell Thomas Special

Born on April 6, 1892, 7:55 PM in Woodington, Ohio
Sun in the Ninth House of the Higher Mind @ 17° Aries 28'

April 6, 1892 – August 29, 1981
American broadcaster, gold miner, a cook, newspaper reporter, professor teaching oratory at Chicago-Kent College of Law and Princeton University, who narrated Movietone newsreels until 1952. "The world's foremost globetrotter" took his radio show on his travels, broadcasting from the four corners of the globe. He is best known as the man who made Lawrence of Arabia famous.

Lowell has a prominent Midheaven [Houses IX and X] with his Sun in his Ninth House trine his Moon 17° Leo 35' in Ascending House exactly.
His Sun squares Mars and is Sun semi-square Venus. His Mercury 4° Taurus 09', in his Ninth House is opposite Uranus [world travel], trine Ascendant, and perfectly semi-sextile Jupiter [professor oratory]. The lucky North Node appears in the Ninth House 17° Taurus 23' in support of lifetime goals to be achieved, in the karmic sense, and with Mercury would, [re transmigration of souls] indicate completion of initiation rituals carried over from past lives.

Lowell Thomas Special: US Gov Library Marathon documentaries, newsreels, extensive print [esp. satire, political cartoons, critics] review. It was in Jerusalem that Thomas met T. E. Lawrence in February 1918 and followed him into the desert for over a week. In Palestine Thomas witnessed the latter stage of the campaign throughout 1918 that featured the capture of northern Palestine and Damascus and onto the taking of Aleppo.
Pita bread recipe follow the white rabbit.


Harry, Ron, and Professor Lupin assess the situation at 12 Grimmauld Place
Black Family home of origin. visit the Home of Sirius Black

Concerning Quidditch: The shop Harry liked to visit every day, when he stayed at The Leaky Cauldron, is Quality Quidditch Supplies, because they carry the best racing broom in the wizarding world, The Firebolt. Every day Harry went to the shop to look The Firebolt up one side and down the other. The sign read:

This state-of-the-art racing broom sports a streamlined, superfine, handle of ash, treated with a diamond-hard polish and hand numbered with its own registration number. Each individually selected birch twig in the broomtail has been honed to aerodynamic perfection, giving the Firebolt unsurpassable balance and pinpoint precision. The Firebolt has an acceleration of 150 miles an hour in ten seconds and incorporates an Unbreakable Braking Charm. Price on request.


Thunderbolt

Pliny distinguishes three kinds of bolt: those that are sicca, dry, and do not burn but dissipant; those that do not burn but blacken, infuscant; and the clear bolt, clarum fulmen, of remarkable nature, by which jars are emptied with the lids untouched and no other trace left. Gold and silver are liquefied inside, but the bags themselves are in no way singed, and not even the wax labels are melted. This appears to be the same phenomenon occasionally reported in recent times, sometimes described misleadingly as spontaneous combustion.

Lightning, lightning bolts, and references to lightning are also found in Bell, Book, and Candle, Clash of the Titans, The Natural, and Raiders of the Lost Ark. The symbol of the lightning bolt is also referred to as part of the German 'special' unit uniform in Star Trek: Patterns of Force [Season: 2 Episode: 21]

Harry Potter - Super Power
Harry Potter is the Gryffindor House seeker, a central position on the quidditch team that requires seventh sense radar. The uniform he wears is the number 7. No surprise that Dan Radcliffe is a fan of Spiderman, who is also famous for his tingly, spidey senses!

BACK Quidditch World Cup

Holiday Recipes, also check party favors in clay: Hedwig Cupcake and Wizard's Chess Waffle
Jupiter Table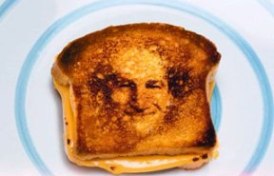 The Big Cheese
Thinking about the GOD question? This classic will help slip you into a melting mood:



Ingredients:

in small skillet, stir fry shrmx - season to taste - [try clear oil like Sunlite]
thin slices of cheddar
thin slices of monterey jack
thin slices of mozzarella
fresh baked 9 grain bread or whole wheat bread
butter

Directions:

Butter one side of each slice of bread. Put all the cheese on the non-buttered side, pour a few shrmx over the top, then put the other slice of bread on top with the buttered side out. Cook on the stove top on a flat no-stick skillet pan on medium heat. Pour shrmx over top of sandwich, serve with tomato slice and lettuce on the side.