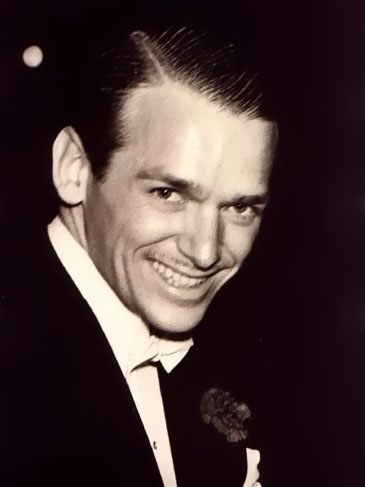 WHO'S WHO IN THE CAST
DOUGLAS FAIRBANKS, JR.
is the scion of a family which long ago became not only an international theatrical legend but an institution. He has in his own time both carried on and expanded that great legacy. Born in New York City and educated in both the United States and Europe, Mr. Fairbanks made his film debut, contrary to his father's wishes, at thirteen and on the stage four years later. He became officially a 'star' at 23 and at 25 he started both producing and acting for his own company. He has been in more than 75 films and was a writer-and-producer of at least fifteen of them [not counting the series of television plays he produced and sometimes acted in some years ago].
Some best known films are The Dawn Patrol, Little Caesar, Catherine the Great, The Prisoner of Zenda, Gunga Din, The Corsican Brothers, Sinbad the Sailor, The Exile, That Lady in Ermine, State Secret and The Fighting O'Flynn.
His list of plays includes Young Woodley, The Jest, Saturday's Children, Romeo and Juliet, Moonlight is Silver, My Fair Lady, The Secretary Bird, Present Laughter and The Pleasure of His Company. He has also over the years, performed countless classics for radio, recordings and television.
In less publicized areas, he managed to study painting and sculpture, to write a prodigious number of essays, articles and stories for various publications and to continue to serve as chairman, director or consultant of several companies.
He served in the U. S. Navy from long before Pearl Harbor to the end of the war. His is still a captain in the reserves. He was awarded several decorations for specific actions for the U.S. as well as allied countries. In addition he was probably the first member of the American theatrical profession to have served on several special Presidential missions and, incidentally, to have had a British knighthood conferred on him.

July 17th - July 22nd Performances - 1978
Meg Wynn-Owen who returns to Westport, played Hazel Bellamy in the Emmy award-winning series Upstairs, Downstairs. She made her Broadway debut with the Royal Shakespeare Company's production of Tom Stoppard's Travesties, directed by Peter Wood, in which she played the role of Gwendolyn. Her first American engagement was playing Gilda in Design For Living at the McCarter Theatre, Princeton and the Annenberg Center, Philadelphia. Next she co-starred with Eli Walllach and Anne Jackson in Absent Friends at Westport, The Kennedy Center and The Royal Alexandra, Toronto.
Ms. Wynn-Owen has appeared on British Television and in films. Her widely varied roles have included Sasha Tolstoy in Leo, Lorne in Breeze Anstey and in Chekov's The Artist's Story. Currently she is appearing on British and European television as Anne Hathaway in the series Will Shakespeare.

Joanne Woodward and Paul Newman
Restore the Theatre
Joanne Woodward
artistic director of the Westport Country Playhouse

Sun 8° Pisces 06' - Moon 25 ° Aquarius 22'
Ascendant 27° Capricorn 28' - Midheaven 15° Scorpio 01'
Pluto 17° Moonchild 39' rx, in House VI, Pluto trine Midheaven, Venus trine Pluto, Saturn opposite Pluto, Mars inconjunction Pluto, Pluto opposite Ascendant
Destiny Path 6

Paul Newman
stage manager in the Playhouse's 2002 production of Our Town

Sun 6° Aquarius 02'
Moon 1° Pisces 39'
Ascendant 13° Capricorn 13'
Midheaven 8° Scorpio 35'
Pluto 12° Moonchild 01' rx, in House VII
Pluto opposite Ascendant, Mercury, Venus, and Jupiter
Pluto trine Midheaven, Saturn trine Pluto, Uranus trine Pluto
Destiny Path 8
AULD LANG SYNE--
[Random Notes on Playhouse Past]
By Ina Bradley
The newspaper advertisement for Thoroughbred playing at the Westport Country Playhouse was headed, in large print, "A Smash Hit!" It listed the company: June Walker, Osgood Perkins, Elizabeth Risdon, Hugh Buckler, Armina Marshall, Blaine Cordner, "and others." - The date was July 1, 1932. Tickets were - would you believe it? - 85 cents, $1.10, $1.65, and $2.20.
The idea of a summer theatre was exciting news in the area. It inspired one newspaper to write glowingly of the opportunity for "residents of Connecticut to receive their first contact" with this new cultural venture through a special radio broadcast from WICC in Bridgeport on June 30, 1932.
Lawrence Langner, then managing director of the Playhouse, served as "master of ceremonies and spoke of his meetings with each such celebrities as George Bernard Shaw and Eugene O'Neill."
Winifred Lenihan, actress and director, spoke on "Woman's Place in the Theatre." There doesn't seem to be any record of what she had to say on this topic, pre-lib.
In those early days the plays were presented by the New York Repertory Company which Langner established when the Theatre Guild Acting Company was disbanded.
The purpose had been too work out several plays in repertory in the summer and then move them into New York. It was a brave adventure in the face of the Great Depression which gripped the country then. At the end of the second season, beset by production costs, union demands and other difficulties [there is nothing new under the sun!] Langner decided to abandon the repertory concept and [in his words] "concentrate on producing plays - my own plays and other plays." This formula worked - and The Westport Country Playhouse was on tits way to fame.

Special thanks to Anne Keefe, resident stage manager, for a copy of Westport Country Playhouse summer program.

The crusade to rejuvenate the charming red barn otherwise known as the Westport Country Playhouse has been a true labor of love.

BACK Dining With Royalty

rt., Paul Newman and Robert Redford [The Sting] tour the Westport Country Playhouse in Sundance Iconoclasts.
Joanne Woodward says it best: "Here in New England, you know, neighbors used to help each other raise their barns. That's probably how our old barn came to be, back in 1830, in the sleepy hamlet of Westport. What we're raising today is more than a barn, though – even more than a Playhouse. If we do this right, we will have recreated the Playhouse as a place where people come to raise their spirits, and raise their sights."

BACK to Springs