H O L L Y W O O D I N N

Angels in the kitchen...



Sean Connery

Poached Salmon with Tarragon Mayonnaise

Preparation time: 35 minutes Poach: 12 minutes
Refrigerate: up to 2 days

Poaching Liquid
8 cups cold water 2 cups dry white vermouth or white wine or ½ cup distilled white vinegar mixed with 1 ½ cups water Six 3-inch-long springs fresh tarragon or 1 teaspoon dried 2 small onions, coarsely chopped 2 carrots, coarsely chopped 2 medium-size ribs celery, coarsely chopped 24 whole peppercorns 2 teaspoons salt Eight 6-ounce pieces salmon fillet Garnish: curly chicory or shredded Lettuce, fresh tarragon & Tarragon Mayonnaise (recipe follows)

Have ready 2 large, deep skillets/ saucepans, large enough to hold 4 pieces salmon in a single layer. To each skillet add: half the water, vermouth, tarragon, onion, carrots, celery ribs, peppercorns and salt. Bring to a boil, reduce heat, cover and simmer 30 minutes to develop flavor of poaching liquid. Add 4 pieces salmon to each skillet.

Increase heat until liquid is barely trembling (just below a simmer). Adjust heat if needed so liquid stays at this temperature. Cook (poach) uncovered, 10 to 12 minutes until salmon is firm, starts to flake when tested with a fork, and is just barely opaque in the center. (If thickest part of fish rises above the liquid, baste often with a spoon as it cooks.) Using a large, slotted spatula (a pancake turner works well), lift fish from liquid to 2 plates. Reserve 2 tablespoons poaching liquid for the Tarragon Mayonnaise. (You can strain the rest and freeze it to use in soups, sauces or for poaching other fish and shellfish.) Cool fish slightly, then cover with plastic wrap and refrigerate up to 2 days. To serve: Line a large serving platter with chicory leaves or lettuce. Arrange chilled fish on the greens. Garnish fish with tarragon leaves. Let stand 15 minutes at room temperature. Serve with Tarragon Mayonnaise.
Serves 8.
TARRAGON MAYONNAISE
In a good processor or blender, process:
1 1/2 cups reduced-fat mayonnaise, 1/2 cup fresh tarragon leaves or 2 teaspoons dried, 2 tablespoons each - reserved poaching liquid & lemon juice and 1/4 teaspoon white or black pepper until smooth.
Refrigerate up to 2 days
Russell Crowe

Fantastic Four and the Silver Surfer
The Fifth Element

Cajun Deep Fried Turkey recipe
from Senator John Breaux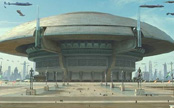 Galactic Senate
Star Wars
Nineteen years after the formation of the Empire, Luke Skywalker is thrust into the struggle of the Rebel Alliance when he meets Obi-Wan Kenobi, who has lived for years in seclusion on the desert planet of Tatooine. Obi-Wan begins Luke's Jedi training as Luke joins him on a daring mission to rescue the beautiful Rebel leader Princess Leia from the clutches of the evil Empire. Although Obi-Wan sacrifices himself in a lightsaber duel with Darth Vader, his former apprentice, Luke proves that the Force is with him by destroying the Empire's dreaded Death Star.
French Fries with Saint Felicien Sauce
by Fromageries de l'Etoile

Ingredients:

2 Saint Felicien
2 tbs flour
1 pt milk
nutmeg
salt & pepper
your favorite French fries

Directions: Prepare your French fries. Peel off cheese rind and divide into small cubes. In a saucepan, melt the cheese with a small amount of water for 5 to 10 minutes. At the same time, mix flour and milk in a bowl (avoid lumps). When the cheese is melted, add the mixture flour / milk. Stir over medium heat while stirring to a creamy mixture. Add a bit of nutmeg and, salt and pepper to taste. Serve over French fries or on the side for dipping.
Serves 4


Alec Guinness
Christopher Lee

President Barack and First Lady Michelle Obama

First Lady's Healthy Kids Fair
Fun fact: the President loves scallops.
Peter O'Toole

Brad Pitt

Divine Dessert: Floating Island - Delos Historical Information

Natalie Portman

The Count of Monte Cristo [see above]
Un Oeuf Sur Un Toast
How To Make Truffled Eggs Toast

Psychedelic Bands

Sting

[and J.R.R. Tolkien] wrap up afternoon tea

Sting's original début on October 2, 1952, was in Newcastle-upon-Tyne, England, moving through the world of mortals as Gordon Matthew Sumner. Since that day, he has continued to break new ground in several of the entertainment genres, the most dominant one being British rock & roll.

Refined Elizabethan music might not come to mind when you think of Sting.
Think again.
The rock star has released Songs of the Labyrinth, a new CD of songs by John Dowland, one of the Elizabethan era's most important composers. See Sting's Labyrinth: 16th Century Pop Music


Sandwiches with choice of garden salads or sliced avocado, beet, and pickle on the side.
Albacore Tuna: Scallions, celery, sun-dried tomatoes with lemon pepper mayonnaise on sprouted wheat bread.

Vegetarian: Cheese, cucumber, purple onion, tomato, spinach and honey mustard dressing on San Francisco sourdough.

Sting's Star Menu - the love of honey




J. R. R. Tolkien

THE LORD OF THE RINGS


Arwen's Salad
Fresh butter lettuce, mandarin orange slices, cashew slivers, coconut bits, sprinkled with honeycrisp ginger and pecans.

Galadriel's Salad
Elbow pasta, marinated button mushrooms, black olive slices, artichoke hearts, and sun-dried tomatoes.

Think about an unexpected guest! Suzanne Somers' Chaumier

Catherine Zeta-Jones

NO RESERVATIONS




Equinox Menu